Give Your Nails a Makeover with a Manicure
02. 28. 2022
Nail care is something that can be easy to forget in the hustle and bustle of everyday life. You can get so caught up with other things that sometimes, you just don't notice that your nails are in desperate need of a buff and shine. Don't forget to give yourself a day of self-care. Come into our salon, and let us pamper your nails the way they deserve with a manicure. 
Benefits to a Manicure
There are lots of benefits to getting a manicure - both mentally and physically. Manicures are something that gives you time to relax with some time to yourself. After a long week, you can come into our salon and spa with the assurance that you'll be given the service you deserve. With our expert care and talented staff, you'll be given a nice confidence boost when you see your new nails - one that can last for weeks. 
On top of this, a manicure can help stimulate blood circulation in your hands and fingers when moisturizers and exfoliators are massaged into your hands. This is good skincare, and given that you use your hands every day, treating your skin well is especially important. 
These treatments can give your hands a young, sleek look that will last by treating your cuticles with proper cuticle care and keeping your hands healthy. Our professional manicurists will also be able to spot and prevent ingrown nails, which is vital for your comfort. For those with weaker, brittle nails, a good manicure can strengthen your nails and help with preventing breakage as well. 
To keep up your hand health at home, try our hand cleanser gel to keep your hands moisturized and feeling good between your appointments!
Designs this Spring
If you would like, our manicurists can give you some impressive and beautiful nail designs that are on trend this spring. 
There are a lot of options that are popular this year in the world of nail art, one of which is cherry blossoms. Japanese cherry blossom designs create adorable pink flowers across your nails - and you can do it on all of them, or if you'd prefer, you can have it done as an accent nail.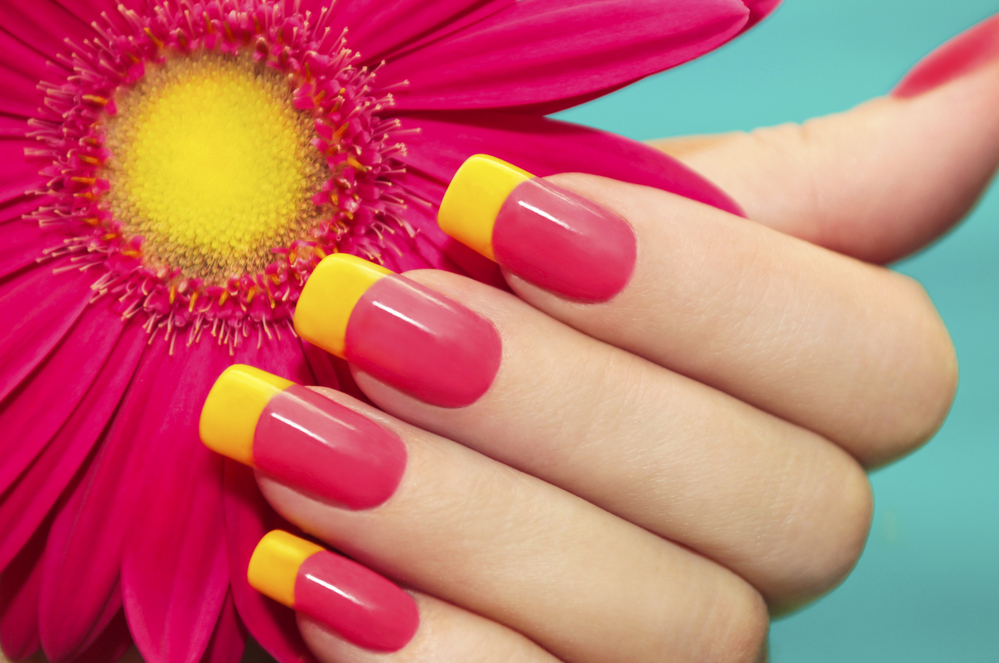 You could also go for two-tone nails if you want some extra color. Two-tone nails split two solid colors on one nail, which would be perfect to compliment the blossoming new colors of spring after winter has passed. For the ultimate blend, let our nail technicians do an ombre effect on your nails!
Fruit patterns are also becoming more popular, with an emphasis on lemons. So if it's what you like, a lemon pattern is a cute, fun way to celebrate the coming season! 
Or, perhaps you'd prefer a marbled look? You could go for a traditional marbling pattern, or incorporate more pastel Easter colors. 
Even if you don't like any of these options, there are many designs you can have done with a manicure, just make sure to speak with your manicurist so they can make sure your manicure is one you're happy and satisfied with. 

Whatever your nail-care needs may be, the expert manicurists at Suede Salon & Spa will make sure to help you get the look you need. Be sure to visit us at The Promenade, 500 NJ-73 South, Suite E12 in Marlton, NJ or you can call us at 856.985.0700. You can also look into booking an appointment with us using our free app, available on iTunes and Google Play.